INTERNATIONAL NETWORK
FOR CONTEMPORARY
PUBLIC ART
Archive

アーカイブ

Archive
Special Lecture + Report on OCTOBER SCHOOL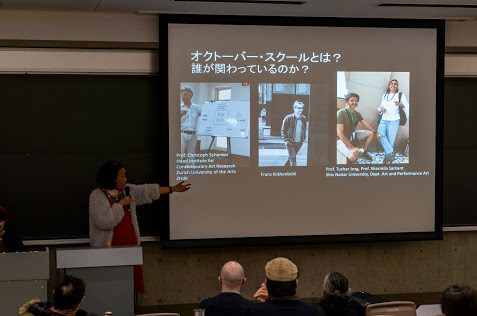 INTERNATIONAL NETWORK
FOR CONTEMPORARY
PUBLIC ART
2020.01.16
We invited Sharmila Samant, artist & curator, director of the "OCTOBER SCHOOL".
---
【Information】
・Day:Jan 16th, 2020. PM6:00-9:00
・Location:Akita University of Art
・Speaker:Sharmila Samant(Artist・Curator)、Hattori Hiroyuki(Curator・Associate Prof., Akita University of Art)、Imamura Asuka(Akita University of Art)、原万希子(Curator・International Adviser, Akita University of Art)
・Sponsership:Graduate School + International Exchange Center, Akita University of Art
・Official Web Site >>>
・What is "InOctober" ?
InOctober is a network of art universities/institutions that intends to consolidate and deepen research and education on relevant public issues and artistic phenomenon. It is a cluster of competence particularly for educational, research, and teaching skills in the field of contemporary public art.
InOctober cultivates sustainable and long-term orientated exchange and co-operations with progressive and innovative partner institutions around the world and their researchers, students and faculty members.
InOctober promotes discourse within the university, brings teaching and research closer together and provides a useful way to transfer ideas and results generated by the research to the emerging generation of artists.
InOctober aligns institutions that are locally bonded and strongly linked with other local institutions.
InOctober provides the framework for the October School, a recurrent open and flexible teaching and researching format, that functions as a backbone of the network.
---